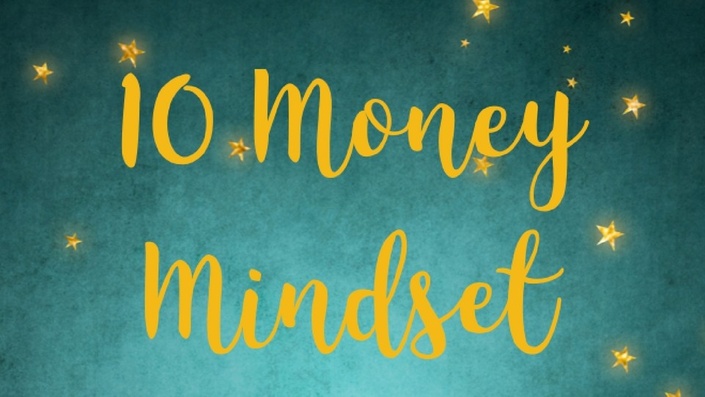 10 Money Mindset Journalling Questions
10 powerful prompts to journal your way to more wealth
Note: Inside is one downloadable pdf with your 10 money mindset questions and then what to do to change your limiting beliefs that have come up through the journalling questions.
The reason you don't have all the money you want right now is your mindset.
Yes, I am telling you the truth, your mindset is the number one reason you don't have what you want right this minute and this is not some woo woo idea that I'm using just because it suits me.
You see, between the ages of 0 and 7 years old our brain predominantly operates in the delta wave frequency, the same frequency hypnotherapist put their patients in because of its suggestible state.
As a child, you watch your environment closely, you take in everything around you, what your parents say or don't say, what they do or don't do, how they act and how they react, all of this information goes straight into your subconscious mind as fact, at this age your mind is basically a sponge, learning about this great big world of yours and how it all works.
Also at this young age our critical mind has yet to develop so we don't question what we are observing and wonder if it is true or not, instead we take it on as fact because of this the behaviours and beliefs of our parents often become our behaviours and beliefs.
We may see our parents arguing over money and then store that away into our subconscious mind as money makes people argue, so as an adult we subconsciously make sure we don't have any money because we subconsciously think it causes arguments.
One of our subconscious minds job is to keep us safe, so if it thinks that there will be a ton of arguments if you have a lot of money, it will do whatever it can to make sure you don't have a lot of money hence saving you from all the arguments.
And the thing is, our subconscious mind runs 95% to 99% of our life so even if we are consciously saying I want more money if your subconscious mind thinks it is unsafe for you to have more money there is not much you can do until you change that limiting belief.
Also, if you hear your parents talking about money growing up and they say things like "rich people are all evil and corrupt" or "money is hard to make" or the classic "we can't afford it" you take on these beliefs as your own and if you think all rich people are evil and corrupt you are hardly going to want to become one of them are you?
These are limiting beliefs that are blocking you from receiving all the money you consciously want; from now on let's call them money blocks.
The worse thing is you might not even have any idea as to why you are always broke, because these beliefs are in our subconscious mind they are hidden from us unless we do some work on our money mindset and blocks, which is where these 10 Money Mindset questions step in.
Journalling on your money mindset is one of the most powerful things you can do to shift your money mindset and hence bring in more money.
Journalling helps you uncover these money blocks that you might not even know are there, the simple art of sitting down and writing the answers to the follow questions gets deep into your subconscious mind, the trick is to answer with the first thing that comes into your mind and then just keep on answering, even when you think there is nothing else to write, that is when the good stuff comes up.
There is no right or wrong, no one is going to see your answers so please don't censor them, you can only get out of this what you put in and if you are only writing down what you think are the right answers then you are not going deep into your subconscious mind and discovering your money blocks, so nothing will change.
Get real, raw and personal here; there is no need to share this with anyone.
Journaling is simple, easy and free so most people forget to use it or just don't realise how powerful journaling actually is.
The first step is revealing your money blocks then you can work on changing and getting rid of them, which is what we are going to do after you have found them.
So get ready, grab a pen, paper and some quiet time and get journalling.
Your Instructor
My name is Giovanna Tucker and I am from New Zealand. I am a very proud Kiwi (New Zealander) and a very lucky lady, I have travelled to over 50 countries, hugged a giant panda, swum with dolphins, sharks, turtles and stingrays, walked the Inca Trail and the Great Wall of China, learnt how to fly a plane, hand feed lions, walked the red carpet, learnt how to sail, published 10 books, sold my photos and books all around the world and I have lived in London England, Sydney Australia, my birth city Christchurch, New Zealand and now I live in a beautiful waterfront location on the Gold Coast, Australia.
I am an internationally published photographer and No.1 internationally bestselling author. I help women who are unhappy, who struggle with money, have low self worth and who know there is more to life than the groundhog day they are currently experiencing, create the life of their dreams that gives them more joy, more money, more confidence, where they can finally feel like they are living not just existing.
Personal development is my passion, I am obsessed with happiness and money mindset, I have spent hundreds of thousands of dollars and over 30 years learning, tweaking and developing what I know works and not just works for me but works for everyone.
If I am not hugging pandas/dolphins/any animal I can get my hands on, I may be travelling - wandering around places I have never been before, out taking photos, listening to a course or audio book, thinking I'm a mermaid on one of Australia's fabulous beaches or helping people make most of their one life on this planet.
Today is going to be awesome - this is your one life, are you living or just existing?

Course Curriculum
Welcome
Available in days
days after you enroll
Frequently Asked Questions
When does the course start and finish?
The course starts now and never ends! It is a completely self-paced online course - you decide when you start and when you finish.
How long do I have access to the course?
How does lifetime access sound? After enrolling, you have unlimited access to this course for as long as you like - across any and all devices you own.
What if I am unhappy with the course?
We would never want you to be unhappy! If you are unsatisfied with your purchase, contact us in the first 30 days and we will give you a full refund.